Top 15 Free Website Builders
by Jhon · August 25, 2016 Website Design Tools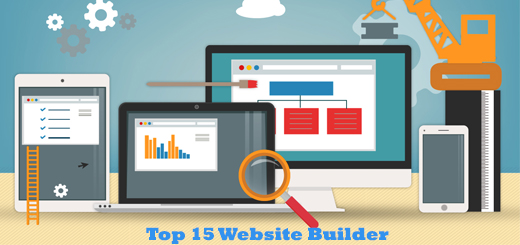 Create yours. All of those are free and easy.
Free Website Builder List 2017:
1. Wix
2. WebsiteBuilder
3. IM Creator
4. SiteBuilder
5. Sitey
6. Weebly
7. Jimdo
8. Ucraft
9. SITE123
10. WebStarts
11. Moonfruit
12. Webnode
13. Webs
14. Yola
15. ezweb123
Conclusion:


Do you want a business website for your business? I know for starting you want to try free website builder. That's why you should use the free website builders for your first try. The advantage to build a free website is you don't need to hire a developer or don't have any special skill to create this website. Most popular WYSIWYG web builders features drag and drop option allowing to develop a website even a small kid can do it. You don't need any programming skill to create a website using a website builder. In this post I will let you know about all the website builders you can use for your business website. Create your own business website today.
Wix become the most popular website builder because of their search engine friendly HTML5 websites. Wix themes are building for small business, restaurants, online stores and artist such as musicians and photographers. Also they are optimized for mobile devices. It is absolutely free for use. Wix is affordable web development platform for small business.
Websitebuilder also is a free website builder site. This website will allow you to create your business website absolutely for free. You can choose hundreds of great themes given to this site.
Website builder give you a free sub-domain name for your website but they will add their banner at footer as well as others.
You can create your website in second with IM Creator. They have the simplest drag & drop editor. Their fee package offers you free domain name of second level and 50MB of storage. They are regularly updating their collections of website templates. IMCreator.com will look perfect on types of browsers and devices as well as mobile and TAB. So don't be late, lets create a Website for business or personal use.
This is a recently launch site. SiteBuilder.com can offer you a really amazing collection of free designed website themes and templates divided on many different categories. They also offer an easy drag and drop tool to build a website. Have many additional tools allow to build really amazing website and even create a blog to your website. There are many advantages for small business website.
Sitey also allow you to create a professional website for free. This website is quite new but same as other website builder. Sitey offers you 50MB storage; 5MB file upload and 1GB bandwidth in their free plan. They also give you database design and development services. You can also try it.
Weebly is for any kind of users. You don't need any technical skills. More than 30 million website created by weebly. It is a very well-known and popular website builder all over the world. Weebly website builder and Web Design Company offer is too low. Their basic plan is Free to use.
Jimdo's website builder is the simplest website builder. It will remove all the hardest part and enable you to create your own professional website with their easiest features. It's start journey in 2010 mostly for small business owners. You will get free sub-domain, 500MB of storages, Online Stores.
Another website builder is ucraft. You can actually build a very nice looking site with ucraft. It allows you to create SEO friendly website. You can use ucarft for your personal or landing page websites.
Sites123 allows you to create amazing website for your personal use using layout. You don't need any design or coding skills for that. You just need to create an account and follow the instruction they provide and you are ready to go.
It is another website builder that allow you to create up to 5 pages, limited web storage and bandwidth (10MB and 5GB/mo accordingly). They have offer pretty interesting collection of templates on their website from where you can actually select for you website.
Moonfruit have a bunch of creative template where you can use one for your website. It is a easy to use free website builder. It offer you 1 website with max 15 pages on a second level domain, 20MB of storage and 1GB bandwidth, no customer support.
You can also use webnode for your personal use. It offers 1 GB bandwidth, 10 MB storage space. They will also you free mobile version of your site.
You can also create your free website with webs. It has a very impressive drag & drop features. They will provide you 1 website as well as mobile version, limited to 500MB bandwidth and 40MB storage space. Also web store items will be limited to 5 items for FREE plan.
14. Yola:
Yola is very interesting website builder. They Will Provide 5 Websites Instead Of Standard 1, Banner-Free Hosting, Quality Customer Support, Build-In Website Statistic And 1GB Storage Per Site.
Ezweb123 also provide you the FREE website you want for you business website. It will provide you 1 website with up to 15 pages on a second level domain, 20MB storage space, 1GB monthly bandwidth. You can also go with this website.
Conclusion:
All of those website builders are really amazing for create a website very easy and fast. So guys don't be late to build your own website. Finally I want to refer you to see our affordable website design packages and so on.